Reviews for a performance of Enoch Arden in Sapporo - 25/12/14

(Carollyn) Eden conveyed the story with incredible focus, immersing herself into the dramatic world of the text, which impressively she acted almost entirely from memory. (Haruko) Seki responded with flexibility and expression through the wide palette of colours she produced from the piano, as well as complimenting the original text by reciting her own poems to enhance the audiences understanding. ..............................................
I was left with on overwhelming impression of Enoch Arden.

( Tomohiko Hondo- Ongaku no Tomo- Leading Japanese classical music magazine)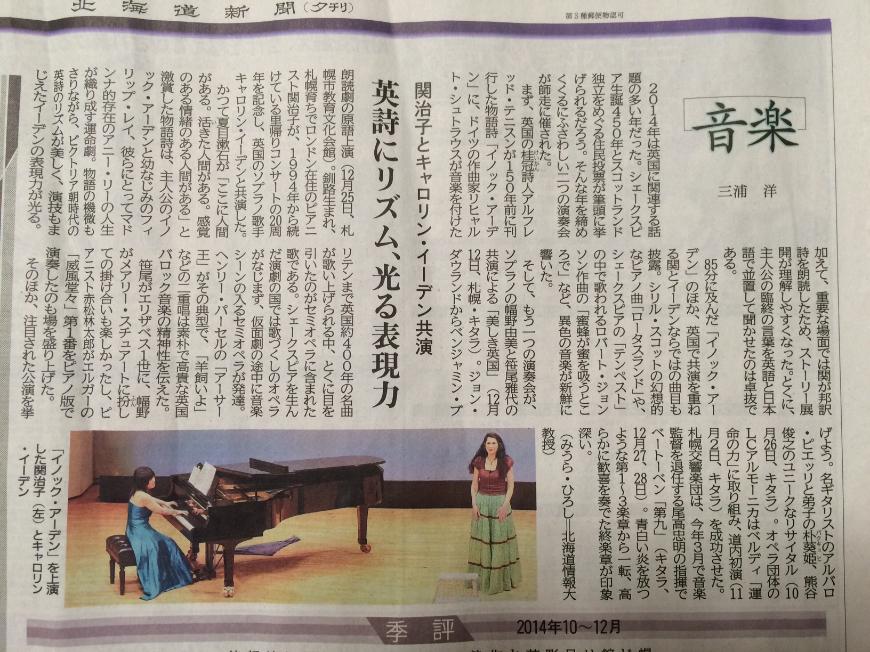 The beautiful rhythm of the Victorian English acted By Eden was illuminating and full of expressive power. Seki's reading of Japanese poems in important scenes made it easy for the audience to follow the story. The last scene in which Eden and Seki read out poetry in both English and Japanese was outstanding.
The second half of the programme consisted of British and Japanese piano works and songs. The unconventional choice of music created an original sound that only Seki and Eden, with their long term partner duo, can manage to present.
n